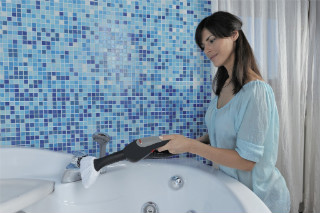 Let us introduce you to Fine Cleaning – a prestigious company that specialises in offering second to none cleaning services in the whole London area. Do not miss out on the opportunity to experience the outstanding performance of our professional team. We assure that we are trustworthy and our high reputation is well known all around the city.
Our responsibility and devotion are key to our successful business. If you want to receive a deep cleaning experience you will never forget, choose us and you will not be disappointed. We never compromise on quality!
Deep cleaning is suitable for your office and home premises, when you do not have enough time and energy to spare for performing all that cleaning duties on your own. If you are reluctant to deal with grime and stains, take advantage of our offer and forget about all the cleaning worries. We promise to amaze you!
Our deep cleaning service is a very detailed and thorough one. It includes a long list of tasks which you can customise to your own liking. Your satisfaction is what comes first!
Kitchen:
Wipe and sanitise appliances such as microwaves, toasters, ovens, fridges and freezers
Polish sinks and taps
Dust and wipe shelves, cabinets, drawers and other surfaces
Wipe mirrors, windows and glass surfaces
Remove cobwebs
Empty trash bins
Vacuum and mop floors
Bathroom/ Toilet:
Descale shower heads
Mop floors
Scrub tiles
Wipe mirrors, windows and glass surfaces
Empty trash bins
Remove soap scum, mould, limescale and hard water stains
Disinfect and sanitise sink, toilet, showers and tubs
Remove cobwebs
Bedroom and other living areas:
Wipe windows
Dust shelves, picture frames, tops of doors, door handles/knobs, drawers, cabinets, pieces of furniture
Wipe mirrors and glass surfaces
Vacuum floors
Mop bare floors
Wipe radiators, windowsills and baseboards
Remove cobwebs
Deep Cleaning from Fine London Cleaning – take a look at some of the many benefits from working with us:
Availability seven days a week, plus weekends and bank holidays
Professional attitude and personal attention
No additional charges (please note that customers are required to cover the parking charges, if there are any)
Top of the line cleaning equipment
Well-experienced and properly trained housekeepers who are also background-checked, insured and bonded
Our cleaning sessions are done with utmost care and attention to detail
Our prices are very affordable so that more and more people can enjoy our deep cleaning
Customers satisfaction guaranteed
We will be glad to take into account each and every one of your requirements, when it comes to the deep cleaning of your home or office. The company has carefully chosen a team of dedicated cleaners who have passed special training courses so that they know exactly what to do when they arrive to your property. We provide them with equipment that is chemical-free and safe for cleaning different types of heavy stains and dirt as well as spots that are usually hard to remove in the normal way.
Professional Deep Cleaning Services
Do not have second thoughts about booking us because our cleaning team is very friendly and reliable. Our housekeepers have been trained to high standards in order to meet each and every one of your cleaning needs. We constantly strive to improve our work and we assure that we make everything in our power to satisfy all customers' wishes.
We combine different types of cleaning procedures in our deep cleaning and usually we do those of them that are most appropriate for the facility. The methods that we apply are not detrimental for your health and they do not pollute the air that you breathe.
Contact us
If that is not enough to contact us right now, we guarantee that at our company we offer exclusively reasonable prices and offers for new customers. There are not unmentioned charges or any other additional payments that could bother your budget.
The only charges that can appear are for a parking spot as we require customers to provide or pay for such. To please you even more, we provide the most reliable customer support centre in London. Please feel free to ask anything regarding the cleaning process and to express all of your concerns about the deep cleaning service. We will discuss every detail with you in a polite and friendly manner, as we have always done and always will do. Choose us and receive the incomparable deep cleaning!
Londoners simply love us. See for yourself.
I fell in love with this company the moment I called for an appointment. The representative was so friendly and polite. The cleaners also did a truly impressive job cleaning my apartment.
The housekeepers arrived on time and cleaned the whole house in no time. Every room was deep cleaned from top to bottom. I strongly recommend this service.
I was looking for an affordable deep cleaning service and a friend of mine told me about this one. The housekeepers came right on the dot and did all of the chores quickly and efficiently. I will surely use this deep cleaning service again.